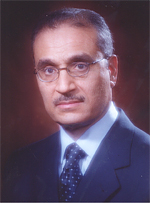 Welcome to the Embassy of the Kingdom of Bahrain's website.
Bahrain has enjoyed a strong relationship with Japan since the establishment of the friendly ties between our two countries back in the early years of independence. Over the years, Bahrain has been an important focal point and friendly host for Japanese companies and enterprises.
The historic decision to open the Embassy in Tokyo is in line with the vast political, economical, social, judicial, educational and health reforms that have taken place in the Kingdom of Bahrain in recent years. Our team's focal mission is to enhance the Bahrain-Japan partnership that will synchronize with these reforms, cultivate Japan's interests in our region, and introduce genuine and productive cultural exchanges between peoples of both countries.
His Majesty King Hamad Bin Isa Al Khalifa has an ambitious vision for investing in the human resources of the Kingdom of Bahrain, so as to further develop our country's status as a cultural, financial and technological center, in a democratic constitutional monarchy. Japan is a traditional democracy, and the second largest economy in the world. Its unique educational system is well focused on technology, economy and productivity. We are looking forward to a mutually beneficial partnership with Japan in achieving our future vision.
On a personal level, I look forward to working with the government and people of Japan to build strong ties between our two nations, and to establishing many new and lasting friendships during my time in this beautiful and friendly country. Furthermore, it is known that millions of Japanese tourists travel abroad every year, and I would like to welcome them in the Kingdom of Bahrain en route to Europe. Our sunny islands have a fascinating history, rich culture, beautiful golf courses, modern shopping malls and sandy beaches.
I expect this website would help you to understand the Kingdom of Bahrain.
Dr. Khalil Bin Ebrahim Hassan
Ambassador of the Kingdom of Bahrain to Japan