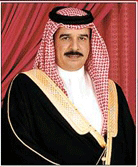 H.M. King Hamad bin Isa Al Khalifa
The King is Head of the State and its Representative, as well as the symbol of national unity. The King's competences are stipulated in the Constitution.
The King is vested with the Legislative, Executive and the Judicial authorities. The King is also the Supreme Commander of the Defense Force.
The King appoints Prime Minister as well as National Assembly Shura Council Members.
Ministers are also appointed by the King as proposed by the Prime Minister. The King appoints judges as proposed by the Higher Judicial Council, which is chaired by the King.
The King appoints civil servants, military personnel, and political representatives in foreign States and with international organizations.
The King may amend the Constitution, propose laws, and is the authority for their ratification and promulgation. The King also invites and declare the opening of the National Assembly.
The King is entitled to conduct a popular referendum on important laws and issues connected with the interests of the State.
The Monarch is a hereditary constitutional monarchy.
Crown Prince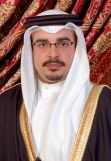 H.R.H. Prince Salman bin Hamad Al Khalifa
The Crown Prince, Deputy Supreme Commander and First Deputy Prime Minister