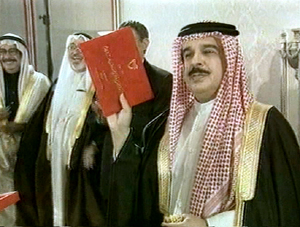 The current Constitution of the Kingdom of Bahrain was promulgated on February 14, 2002. The major ammendments from the old Constitution of 1973 are as follows; The State system converted from Emirate to Kingdom, and accordingly, Amir became King. In addition, in order to pursue wider national participation based on democracy, the legislature became enhanced from single Shura Council system to the bicameral system with Council of Representatives chosen by elections in addition to Shura Council.
Introduction of the current Constitution was initiated by King Hamad bin Issa Al Khalifa. Since the accendance to the Amir in March 1999. King Hamad has been working on democratization and modernization of the State.
After the accendance, the Amir Sheikh Hamad (then) established the Supreme National
Committee to delegate them to prepare a document which should be a guideline of modernization and democratization of the State. In December 2002, the Committee submitted the final draft of the National Action Charter to the Amir. Then the Amir conducted the national referendum in February 2001, to ask the nation whether to adopt the draft or not. The draft gained 98.4% of approval from the voters of 90% turnout and adopted by the Government.
Based on this National Action Charter, the current Constitution was prepared.
Another remarkable aspect of the Constituiton of Bahrain is that since the old constitution, it prohibits offencive war or aggressive war.
Full text of the Constitution (PDF file)
Full text of the National Action Charter (PDF File)